Britain Sewers
From UO Second Age
Description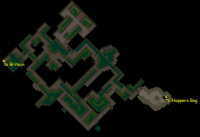 The Britain Sewers can be found directly southeast of Britain Healers (the entrance is in guard zone. This leads to Hopper's Bog, a swamp in the Lost Lands.
It's a great place for a new character to train. Generally, a good procedure is thus:
Train thy combat skill upon a dummy, preferably one made of straw, until thy skill is 25.
Proceed to the Sewers and clean up the place. The low-level creatures that inhabit these wretched halls shall not give thee much trouble.
Notes
Have the spell, Teleport, handy - it can come in handy at various points in the Sewers.
Pets and mounts cannot go through the exit to the Lost Lands. Stable them before entry.
If you're new, stick to fighting on the bridges - that way, the rats cannot team up on you.